Yellow mustard is one of the popular, spicy, and strong flavor condiments used in sandwiches, salads, burgers, hotdogs around the world.
Yellow mustard is a popular ingredient in various fast foods. The word fast food seems here unhealthy, but yellow mustard provides many health benefits. Phosphorus and calcium present in the mustard benefits to teeth and bone health. The nutrient present in the mustard sauce helps to benefit respiratory disorders.
How to Make Mustard
Making your own homemade mustard can be an easy way to get it. There is
also, some variation to follow with the basic mustard recipe.
Ingredients
6

tbsp

Yellow mustard seeds

1/2

Cup

Mustard powder

1/2

cup

Water or Beer

3

tbsp

Vinegar

sherry or white wine

2

tsp

Salt

1

tsp

Ground Turmeric

Optional

2

tbsp

Honey

Optional

1/4

tsp

Minced fresh herbs
Instructions
Grind some whole mustard seeds in a coffee or spice grinder.

Add some semi-ground seeds into the bowl and add salt. Mix the mustard powder and salt.

Add some water or beer and stir well. When everything is combined, let the mixture sit for 10 minutes.

The longer you leave it to sit, the mustard becomes mellower. It will be ready to pour in the vinegar.

Include the mustard mix in a glass jar and keep it in the fridge. In the beginning, it will be runny and become as thick as you keep overnight.

Wait for 12 hours before using it. This recipe of mustard will stay longer until one year in the refrigerator.
Notes
Varieties of mustard may change the liquid.
The texture of mustard depends on how you grind it. Do not use complete seeds with powder or skip using powder without seed.
Add herbs, honey, and different spices according to your taste.
Remember, you cannot eat mustard instantly. Wait for at least 1-day before using it.
Mustard needs to marinate and diffuse its bitterness.
Mustard: Nutritions
Mustard is an ancient savory spice with different health benefits. Dietitian recommends mustard to enhance the entire nutritious value of the diet.
Low Cholesterol, Low Calorie, & Salt-Free
Mustard is the best choice for intense taste with reduced calories around 7-10 calories in a tbsp of prepared mustard or powder with 7-10 calories. The content of sodium varies different in mustard, but one tablespoon of mustard seed has 1-mg of salt and 25% of protein by its weight.
Omega-3 Fatty Acids
Mustard is the best source of omega-3 fatty acids, which shown to improve the risk of heart attacks, such as lowering blood pressure, bad cholesterol, and lower the arterial plaque accompanied by inflammation. They help to improve brain functions and mental disorders and bone health.
Dietary Fibre
Mustard seed is the best source of soluble fiber in large quantities due to its gum over the seed cover of the yellow mustard. According to research, the mustard gums helps to reduce glycemic indexes. Including mustard fibers also manage your blood sugar levels.
Protein
Mustard seed provides a high amount of protein with essential amino acids. Mustard is rarely utilized in large amounts so, it is not a protein substitute on its own but utilized to create nutrient-dense food with amazing flavors.
Essential Minerals
Mustard is full of nutrition that boosts plenty of essential minerals such as iron, calcium, manganese, zinc, and phosphorus. Additionally, mustard is a good source of omega-3 fatty acids, phosphorus, protein, iron, and tryptophan.
Mustard is the best source of selenium. It helps to catch the mineral that can cause cancer risk. Selenium also helps to prevent cancer growth cells. It also prevents the effects of free radicals. Mustard also contains plenty of magnesium that lower high blood pressure and relieve asthma in menopausal women.
Serving Size 100g (Per Serving)
Calories 490
Total Fat 28g (36%)
Saturated Fat 1.5g (8%)
Trans Fat 0g
Sugars 3g
Protein 29g
Sodium 0mg (0%)
Cholesterol 0mg (0%)
Total Carbohydrate 30g (11%)
Dietary Fiber 26g (93%)
Includes 0g Added Sugars0%
Vitamin D 0mcg (0%)
Calcium 380mg (30%)
Iron 8mg (45%)
Potassium 861mg (20%)
Phosphorus 865mg (70%)
Magnesium 374mg (90%)
Zinc 5mg (45%)
Percent Daily Values shows you how much one nutrient in one serving present in the foods you eat.
Health Benefits of Yellow Mustard
Phenolic elements and other essential nutrients found in various parts of mustard plants such as leaves, seeds, and oil collectively provide health benefits with good flavor.
Anti-Cancer Benefits
Mustard is a member of the Brassica family. The mustard plant seeds consist of sufficient healthy phytonutrients known as glucosinolates, which helps to protect from cancers such as colon cancer, bladder cancer, and cervical cancer.
The presence of glucosinates helps to breakdown isothiocyanates with myrosinase enzymes found in mustard.
Relieves Signs of Psoriasis
The mustard seeds are more effective for treating psoriasis, which is a severe inflammatory autoimmune disease. Research tells that mustard seeds to provide a best anti-inflammatory agent, prevent psoriasis treatment.
The study tells that mustard seeds to help to stimulate the signals of essential enzymes, such as superoxide dismutase, catalase, and glutathione peroxidase. It also encourages healing and protective action in such ailments.
Relieve Contact Dermatitis
Mustard seeds provide treatment for contact dermatitis. According to research, mustard consumption helps to heal the symptoms of contact dermatitis. It helps to heal the tissues and reduce ear swelling.
Promotes Cardiovascular Health
Mustard also helps with heart health. Studies assessed the effect of mustard in heart patients and found positive results in the reduction of cardiac arrhythmia. It also lowers the ventricular enlargement and chest pain linked with it. The cardioprotective qualities of mustard associated with the presence of omega-3 fatty acids in the helpful components.
Treat Respiratory Disorders
According to traditional medicine, mustard seeds got more value for therapeutic effects for treating sinus and cold problems. It is one of the best expectorant and decongestant helps to clear the mucus from air passage.
According to ayurvedic experts the mustard seeds considered as warm food as it provides healing effects for Vata and Kapha. They add ground mustard seeds in the foot soak for removing congestion from the respiratory organs. Another remedy is to gargle the tea prepared from mustard seeds for soothing sore throat.
According to ancient medicine, the seeds work effectively for treating chronic bronchitis.
People with asthma can try massaging mustard oil with camphor to boost easy breathing by removing phlegm.
Treats Pains & Aches
Plaster made from mustard seeds helps for lowering spasm and pains. Mustard contains rubefacient properties, and when used as plaster, and exercises analgesic provides comfort to muscular aches. Another essential advice is mustard plaster provides warm effects. It may trigger sore blistering if you apply directly to the skin. However, using a linen sheet can be helpful between plaster and skin.
Prevent Ringworm
According to some claim, mustard seeds provide anti-bacterial qualities. These anti-bacterial properties help to heal the lesion that occurred by ringworm. Applying mustard topically over the clean skin helps to soothe symptoms linked with ringworms.
Skin & Hair Care
Mustard also helpful for benefiting hair and skincare. Boiling henna leaves with mustard oil help in hair growth. Applying a paste of mustard roasted with coconut oil or sesame helps to prevent acne and provide clear complexion.
Yellow mustard is loaded with plenty of beta carotene, iron, protein, and calcium, which helps in boosting hair growth. Massage with yellow mustard oil regularly on the scalp for faster hair growth and blood circulation.
Poison Repulsion
Apart from cooking uses the mustard seeds also help to protect against poison effects in the body. A decoction prepared from mustard seeds helps to clean your body from poisonous effects occurred by excess alcohol or narcotics.
Benefit Nerve Health
According to ancient medicine, the mustard plant goes popularity for providing natural heat in the body. The heat helps to benefit nerve damage in the body. It helps to stimulate the healing in the body by activating impulses on the nerves.
Manage Diabetes
Mustard leave helps manage diabetes. According to studies, mustard seed helps to benefit in lowering the damage occurred by oxidative stress linked with chronic disease. Another study analysis discovered that mustard oil showed positive effects on lowering serum glucose and glycosylated proteins. It assists in reducing lipid peroxidation and activate glucose metabolism.
Reduce Bad Cholesterol
Mustard leaves provide the best benefits for reducing cholesterol. According to studies, cruciferous vegetables like mustard greens provide the best ability to bind the bile acids in your digestive tract, which promotes easy excretion of bile acid from the body. The bile acids generally consist of cholesterol. Therefore, eventually, the binding method helps to lower the cholesterol levels in the body.
The mustard greens are full of nutrition and essential for lowering blockage in the arteries and reduce the disorder like atherosclerosis.
The content of vitamin B6 in mustard greens limits the platelets from clustering the risk of thrombosis.
Reduces Menopausal Symptoms
Mustard greens are beneficial for women's health. It relieves the symptoms of the menopause phase. The presence of calcium and magnesium promote bone health and limit bone loss linked with menopause. It also lowers the risk of osteoporosis in women with menopausal women.
Mustard: Culinary Uses
Mustard is popular across the globe for its amazing flavoring agents.
Yellow dried mustard provides the best flavor when you add it as a seasoning in mayonnaise, salad, and dips.
Yellow mustard is usually used for making condiments like table mustard.
Whole mustard seeds provide amazing flavor to dips and pickles. It serves best as cooking oil for stir fry vegetables and deep-frying.
Yellow mustard flour provides amazing emulsifying and balancing qualities, which are suitable for sausage preparation.
You can add mustard greens in soups and serves as the main course with fresh cornbread, which is famous in Northern India during the winter season.
Mustard also provides useful benefits for the fermentation process while preparing apple cider and limit the waste of meat products since ancient times.
Benefits Bad Breath
Yellow mustard is the best home remedy for preventing bad breath. Place one tsp of yellow mustard oil in the mouth and whiz for one minute. Clean your mouth using water.
Mustard treat uterine cancer
Research shows issued by Human & Experimental Toxicology, tells that mustard seeds to provide chemopreventive benefits and offer protection to remove toxin effects of carcinogens.
Mustard Helps in The Formation of Red Blood Cell
Iron and copper minerals are essential for the formation of new blood cells. A tbsp of mustard provides 6% of DV for iron. Iron deficiency can cause anemia.
Mustard trigger better night sleep
Mustard is quite popular to help sleep problems. As it contains high magnesium, it provides a direct link to improving quality sleep, tranquillity, and duration of sleep. Mustard also promote your metabolism and lower the sleep disorder of insomnia. Many people take help from sleep devices but adding mustard in your diet brings natural sleep.
Help in metabolism
Yellow mustard is the best source of magnesium, which plays an essential role in metabolic processes. It helps to stimulate protein synthesis. The phosphorous content of yellow mustard promotes the metabolism of protein, carbohydrates, and fat in your body.
Eases Colds Ailment and Coughs
The sour nature of mustard benefits to treat cold and cough problems. It clears the nasal section and chest blockage. You can also use mustard oil over the chest and cover the warm cloth for the best result.
Mustard: Side Effects
It is suggested to stay cautious while using any food for the first time. Some people may get allergic reactions because of unsuitable components. Here are some side effects that may occur from mustard.
Skin Issues
The mustard plant is known for its healing effects. Therefore, be cautious while using on skin, or it may also bring rashes. Avoid eye contact with it.
Goitrogen
Raw mustard seeds and its leave consist of substances known as goitrogens, which cause to change thyroid gland functioning. People suffering from thyroid disease should avoid mustard consumption to avoid reactions.
Oxalates
Mustard also contains oxalates, which can interfere with calcium absorption. People experiencing oxalate illnesses, such as kidney stone formation should avoid, or limit mustard consumption. Watch out for overconsumption and check with a doctor for advice.
Selection | Preparation | Storage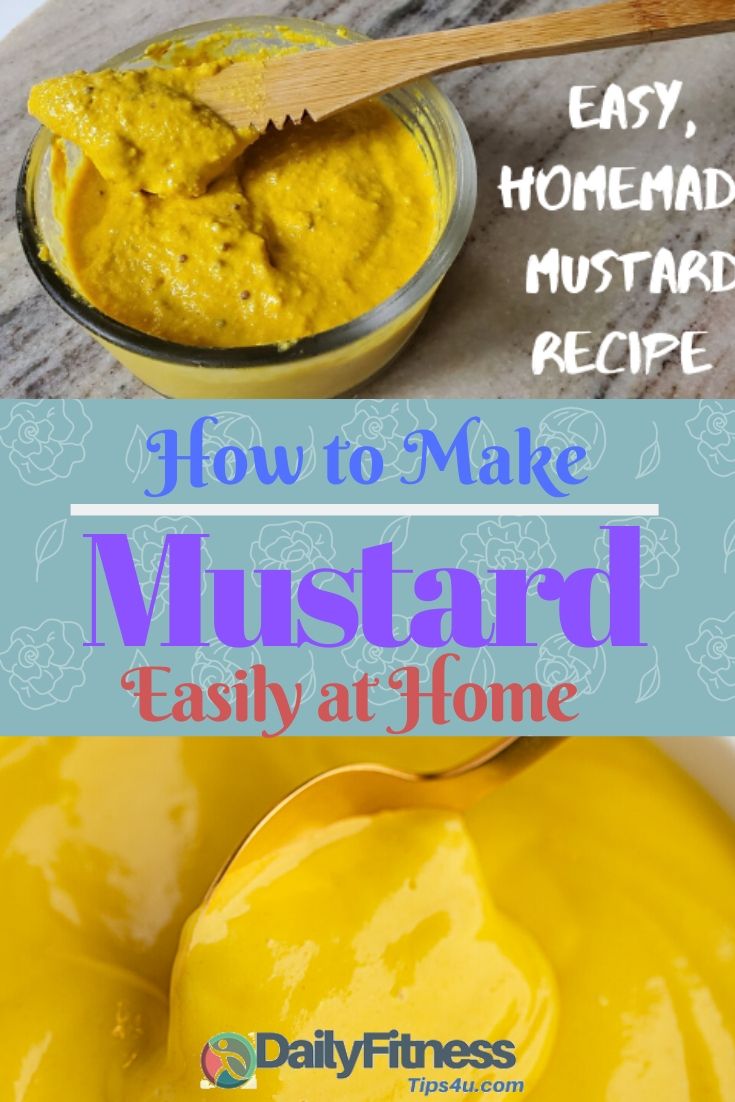 Mustard is easily available food and found in every grocery store. You can use a yellow mustard to prepare condiments.
If you check the special store for spices, then you will get more exotic flavors of mustards. For example, mustard is prepared with spicy peppers, honey, and wine. You can also check course mustard varieties that provide different texture accompanied by seeds.
It is good to purchase mustard in a small portion. The condiment will lose its flavor with time. Try not to buy a large container as it will get wasted. You can store the mustard for one year in the refrigerator.
You can make salad dressing and get spicy flavor with mustard. Also, try using mustard in different recipes.