Hair loss can be depressing. Watching your hair falling every day and getting thinner can be hurting because everyone loves them more than anything. When you start to worry about your hair fall, that could increase the condition because of taking stress. You may also try to treat the baldness problem with different hair care products available in the market, but the chemicals present make the symptoms worse. Therefore, you can choose natural remedies, which not cause side effects like other chemicals.
Baldness also called alopecia, which affects the scalp and whole body in some cases. The baldness can be temporary or permanent. It can be a result of hormonal changes, heredity, medical conditions, or aging. Anybody can lose hair from the head, but its more in men.
Baldness commonly refers to more hair loss from the scalp. Hereditary hair loss with aging is the most common cause the baldness. Some people do not feel embarrassed about hair loss and live normal, and some feel extremely embarrassed and low confidence. Some people also prefer to have hair restoration treatment.
Symptoms
The symptoms of hair loss can develop in different ways and depending on the cause. It can happen gradually or quickly and affect your scalp or the whole body. The symptom of baldness includes:
Gradual Thinning Over the Top of The Head
It is the most common type of hair loss. It affects the people as their age increase. In men, hair starting to fall from the hairline on the forehead. Women commonly have a wide part of their hair. Common hair loss growth pattern in older women is the front hairline.
Patchy or Circular Bald Spots
A few people lose hair in round or patchy bald spots on the scalp, facial hair or eyebrows. Your skin may get irritated or difficult before the hair drops out.
Total Body Hair Loss
Some medical treatments and conditions, such as cancer, which may cause hair loss in the overall body, but the hair grows back after the treatment.
Scaling Patches in The Entire Scalp
It is a sign of ringworm. This condition is accompanied by broken hair, swelling, redness, and oozing.
Unexpected Hair Loss
Holding an emotional trauma or physical injury may cause unexpected hair loss. Whenever you wash or comb your hair, some hair will come in hand. This kind of hair damage is temporary but induces total hair thinning.
Let's know how castor oil help to treat baldness.
How Castor Oil Work for Baldness?
There is no specific scientific research that relates to castor oil for hair growth. However, proponents claim that it not only assists hair growth but also treat other problems like dandruff. Here are some reasons that it may work for baldness:
Castor oil holds strong anti fungal, antibacterial, and anti-inflammatory properties. These properties help to promote scalp health and reduce hair loss and scalp problems.
Regular application of castor oil helps to promote blood circulation, which removes the toxins from hair follicles. It also helps to nourish the hair.
Unhealthy hair looks thin and leads to breakage. Castor oil helps to condition the hair, remove the problems like hair breakage and splitting. The moisture present in castor oil helps to smooth the frizz and dryness and provide healthier hair.
The castor oil contains rich vitamin E and omega-6 fatty acids, which helps to nourish the hair follicles while strengthening the roots and shafts, and lower hair fall.
Castor oil consists of ricinoleic According to studies, castor oil helps to inhibit the prostaglandin-D2-Synthase, which is an enzyme that can lower the hair lengthening and leads to baldness.
How To Use Castor Oil for Baldness?
1.Castor Oil For Baldness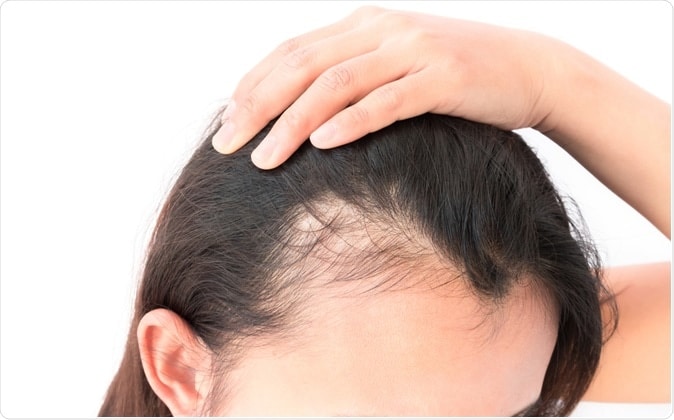 Castor oil provides ricinoleic acid, which stimulates hair growth from follicles. It may also help to strengthen the hair roots and nourish the follicles. However, the oil may boost hair regrowth.
Ingredients
Castor oil – 2 tbsp
Prep Time
2-minutes
Processing Time
45-minutes
Method
Heat the castor oil for few seconds till it gets slightly warm.
Apply this warm castor oil in the scalp and make sure that you have covered all spots.
Massage the scalp for about 10-15 minutes. Focus on problem spots of hair loss. Keep the oil in scalp for 30 minutes or leave overnight.
Wash your hair with a mild shampoo containing sulfate.
How Often use it?
3-times a week.
2.Mix Castor Oil with Coconut Oil
As castor oil has an amazingly thick consistency, consolidating it with a transporter oil, for example, coconut oil, causes it to soak your hair better. It helps support the oil's proficiency with regards to improving the well being of your hair shaft. Coconut oil is likewise amazingly penetrative and will leave your hair feeling solid and profoundly adapted.
Ingredient
Castor oil – 1 tbsp
Coconut oil – 2 tbsp
Prep Time
2-minutes
Processing Time
45-minutes
Method
Mix castor and coconut oils in a bowl and heat and make it slightly warm.
Apply the warm oil blend on your scalp and hair tips.
Massage the scalp well for 10-15 minutes in hair loss areas.
Keep the castor oil blend for 30 more minutes and or leave it overnight. Wash the oil with a mild shampoo.
How Often?
3-times a week.
3.Castor Oil with Lemon Essential Oil
The lemon essential oil can help in tackling problems of the scalp and promoting scalp well being. It is additionally a rich source of vitamin C that helps to support collagen levels and advance hair development. The oil additionally smells magnificent and will leave your hair feeling fresh!
Ingredients
Castor oil – 2 1/2 tbsp
Lemon essential oil – 1 tsp
Prep Time
2 minutes
Processing Time
20 minutes
Method
Combine both oils and heat it to warm.
Apply this warm oil blend in your scalp and massage the problem areas and hair tips for 5 minutes.
Keep the oil for 15 minutes in your hair and wash hair with a mild shampoo.
How Often?
2-3 times every week.
Rosemary Oil with Castor Oil
Rosemary essential oil is the best ingredient for hair regrowth. It stimulates hair follicles by fighting oiliness. It helps to unclogs the pores and soothes your scalp from its anti-inflammation and antibacterial properties.
Ingredients
Coconut oil – 2 tsp
Castor oil – 2 tsp
Rosemary essential oil – 4-5
Prep Time
2-minutes
Processing Time
30-minutes
Method
Take castor oil and coconut oil and heat it at low flame. Avoid overheating it.
Add this warm oil in a bowl and add 4-5 drops of rosemary essential oil.
Mix all oils well and apply on scalp and do massage from roots to tips for 5-10 minutes.
Keep this oil blend on the scalp after massage for 20-minutes and wash your hair with a mild shampoo.
How Often?
2-3 times every week.
Mix Castor Oil and Tea Tree Oil
Castor oil and tea tree oil work wonder for baldness. Tea tree oil provides anti fungal, antibacterial, and anti-inflammatory properties, which helps to promote scalp health by treating dandruff problems. It also works effectively for the scalp. When combined tea tree oil with castor oil, it helps to increase the hair thickness by promoting hair regrowth.
Ingredients
Tea tree oil – 4-5 drops
Castor Oil – 2 Tbsp
Coconut Oil – 2 Tbsp
Prep Time
2 -minutes
Processing Time
45 – minutes
Method
Mix castor and tea tree oil and make it warm.
Pour the warm oil blend over hair loss spot in head and massage for 10-15 minutes. Keep this oil in hair for 30 minutes after the massage, or you can also keep it overnight.
Then wash after 30 minutes or the next morning with a mild shampoo.
How Often?
3-times every week.
Castor Oil with Hibiscus Petals
Hibiscus helps to promote the efficiency of castor oil by the soothing scalp and keeping your hair healthy. It also prevents the breakage and splitting of hair. It also works as an effective hair conditioner.
Ingredients
Castor oil – 1 tbsp
Coconut oil – 1 tbsp
Almon oil – 1 tbsp
Vitamin E capsules – 2
Hibiscus petals – 10-15
Prep Time
Overnight
Processing Time
One hour
Method
Combine coconut oil, almond oil, castor oil, and vitamin E oil.
Crush some hibiscus petals and include it in the oil blend and keep it overnight.
In the morning, apply this blend in your scalp and make sure that you have covered all problem areas in the scalp.
Massage well for 10-15 minutes and wash it after 45 minutes with a mild shampoo.
How Often?
3-times a week.
Side Effects
Castor oil is the cause of concern as it may lead to severe hair felting, which is a rare disorder of hair that entangle hair into a hard mass. Since the hair felting condition is irreversible, you can have the option to cut the affected hair.
You should also note that consuming a high amount of castor oil is more harmful and induce side effects like:
Fainting
Nausea
Abdominal cramps
Diarrhea
Dizziness
Hallucinations
Skin rash
Throat tightness4
chest pain
Shortness of breath
Precautions
Since castor oil may cause strains, it is best to wear old clothes while applying castor oil. Castor oil may also stain your towels, make sure you have washed hair thoroughly before using a towel. Remember, your hair will need two applications of shampoo to remove the castor oil.
If you tried castor oil for hair loss and not seeing results, then have a medical test from your physician because certain underlying health ailments also hinder hair growth. Therefore, it is important to take your doctor's advice.
Where Can You Get Castor Oil?
Castor oil is native to the Ethiopian places of Africa. The castor plant is now grown everywhere in the world. It has first references from early 4000 BC from ancient Egypt, where they used castor oil for treating as medicine, and household needs. The record suggests that the physicians of ancient Egypt used castor oil for treating eye irritations. Also, castor oil is one of the essential parts of Ayurveda in India, where Chinese medicine also utilized the benefits of castor oil.
There are many varieties of castor plants. However, while the castor oil provides benefits, the beans and seeds are harmful if eaten. Cold-pressed castor oil is considered as highly beneficial and safe.
Other Benefits Of Castor Oil For Hair Growth
Keep Hair Strands Moisturized
Like different natural oils, castor oils found later after knowing its ability to seal the moisture in hair and maintains the natural oil in strands. It provides rich amino acids called ricinoleic acid, which work as a natural emollient for hair. It also provides high omega-6 and omega-9 fatty acids, which balance the hair moisture. Regular application of castor oil helps to nourish the hair naturally and boost moisture.
Provide Anti fungal and Antibacterial Qualities
When your scalp does not get proper care, the fungus and dryness forms and result in dandruff and flaky scalp. Scalp nourishment and hygiene are important for hair growth. The castor oil application for scalp ensures that you limit the growth of harmful bacteria and fungal problems that may destroy the scalp's health. Therefore, it is one easy way to keep your hair infection-free and grow hair.
Castor Oil Provide Rich Vitamin E
Vitamin E oil is essential for hair growth, and castor oil provides it. It also provides essential fatty acids for assisting hair growth. These make your hair shiny, healthy, and strong. Vitamin E helps to protect hair by reducing free radicals and increasing strength and quality. Castor oil also helps the protein synthesis, which ensures the growth of hair and resting cycle, which will stop hair fall. Regularly applying castor oil and vitamin E oil helps to grow strong strands.
Balance pH levels in the Scalp
Since castor oil has a thick texture, it stimulates the scalp, and its fatty acids help to balance the pH levels. It also helps to prevent flaky skin and dandruff occurrence by promoting blood circulation in scalp and hair roots.
Promote Hair Follicle Health
Your scalp is the skin over the skull and the base of hair follicles. Therefore, nourishing the scalp skin helps to influence hair growth. Dead hair follicles block the pores of the scalp and hind hair growth due to a lack of nutrition and hydration. Therefore, oiling scalp helps to promote hair. Massaging scalp with castor oil also promotes the circulation in the scalp and keep it hydrating.
Castor Oil Makes Frizz-Free and Smoother Hair
Castor is the best conditioner and natural hair softener. It provides emollient properties and soothes damaged, dry, and frizzy hair. It also provides oleic and linoleic acids to restore normalcy to hair, which causes damage from pollution, stress, lifestyle, and improper care. Applying castor oil before sleep helps to prevent damage and dry ends. Regular applying castor oils also help to repair the brittle hair and enhance overall texture.
Can You Consume Castor Oil For Hair Growth?
While applying castor oil on the hair or scalp, it can also be consumed one teaspoon every day to increase hair growth chances from within, but you should take expert advice and know the reason for hair fall. Ingesting castor oil could benefit to gut inflammation, digestive problems, and irritable bowel syndrome. Some experts recommend taking steam of castor oil for stomach ailments.
FAQs
Can you grow eyebrows and eyelash hair from castor oil?
Apply 1-drop of castor to lashes to improve the thickness and make them look more shining and fuller. Make sure you don't have any sensitivities because it will disturb your eyelids. Apply your usual conditioner for most reliable results and seal the natural oil in hair strands.
How Regularly Should Castor Oil Be Utilized?
Try not to utilize castor oil more than one time per week, and that too in little amounts. If you need to utilize it all the more as often as possible, include a couple of drops of castor oil to a lighter oil like coconut or argan oil, and afterward utilize this on the hair for ideal advantage.
This is about castor oil for baldness. Managing hair fall can be incredibly troublesome. Be that as it may, you can solve the issue from getting regular by utilizing these castor oil medicines. Not exclusively will they help control hair fall, however, they'll likewise help restore hair volume.