Different weight loss plans have different calorie counts.  The 300 calorie breakfast ideas are quick, easy, and healthy to make. For those people who do not like large calories, it has low-calorie choices that reach around 200 calories. They will offer some energy to kick-start your day and not make you feel hungry. If you prefer frequent, small meals, these are the best choices, which leave space for a mid-morning snack.
300-Calorie Breakfast Ideas
The best way to eat a low-calorie breakfast every morning is to make the food in advance. Remember calorie counts for every breakfast idea are given below are just an estimate. Nutrition information will change bases on the ingredients type and portion size. In general, most of them will fall under 300 calories with some low and a few closer to 350 calories.
Breakfast Burrito
If you like tasty food in the morning, this protein-containing breakfast will decrease hunger craving.
2 Egg whites(scrambled)
Low-fat cheese -1 oz.
Salsa – 2 Tbsp.
Half cup cooked spinach or another vegetable
1 Whole-wheat tortilla
Nutty and Sweet Oatmeal
This breakfast consists of full fiber to prevent cravings that often occur at 10-11 in the morning.
Instant plain oatmeal of 1 packet
Pear – 1 medium
Honey – 1 tsp
Almonds(chopped) – 1 Tbsp
Waffles and Banana
Do you like sweets? This breakfast helps to satisfy your sweet craving. Whole grain also provides stable energy.
Low-fat whole-grain waffles – 2
Pecans – 1 Tbsp (chopped)
Banana – 1/4 fruit
Microwave Meal
This is a most satisfying and boosting breakfast with full protein. This sandwich offers 17 gm of protein for only 250 calories. Also adding milk boosts it.
Cheese Muffin Sandwich, Egg Whites – 1% milk, 4 oz.
Denny's Breakfast On-the-Go
Denny's provides a healthier breakfast option, which keeps your diet on track.
Fit Fare containing Veggie Omelette
English muffin without butter
Jamba Juice
If you are running and need to drink quick fluid, then you will get some options at Jamba Juice to fulfil your morning hunger. It will be healthier if you add oatmeal or yogurt
Strawberry with Greek Yogurt Bowl (half)
Water and lemon
Cereal with Berries
Many people love cereal as a filling and quick breakfast option, but the cereal type you choose make big difference. Make sure to choose a whole grain box to get the fiber to assist in weight loss.
Whole-grain oat cereal, 1 cup
Blueberries, 1 cup
Fat-free milk, 1 cup
Egg-and-Cheese-Stuffed Baked Potato
1 large egg
1 TSP Butter
Baked potato 1
shredded Cheddar 1 tbsp
Salt and black pepper
Non-stick pan
Cook one large beaten egg with butter using a non-stick pan. Season it with pepper and salt.
Now split a small, warm baked potato then stuff scrambled egg in it. Top this with shredded cheddar and few slices of scallions.
Peanut Butter, Banana, and Chia Toast
Wholegrain toast 1
Peanut butter 1tablespoon
Banana 1
Chia seeds 2 TSP
Cinnamon
Spread peanut butter on whole-grain toast.
Make banana slices and arrange them on toast. Then sprinkle chia seeds and cinnamon.
Savory Breakfast Wrap
Cooking at home and doing a nice presentation helps to satisfy hunger.
Canadian bacon – 2 slices
Soft corn tortilla – 1
Shredded cheddar – ¼ cup.
Apple -1 small
This easy and less time making breakfast. It takes less than 5-minutes and satisfies hunger. Also, layer bacon and cheese in the tortilla and heat it to melt the cheese.
Waffle Sandwich
Don't you have bread in the house? No problem, simply prepare this delicious and nutritious meal.
Honey-1 Tbsp.
Whole-grain blueberry waffles
Part-skim ricotta cheese – 2 Tbsp
Coffee Shop Quick Breakfast
Some coffee shops provide oatmeal. But you can also keep a packet with you.
Small skim cappuccino
Kashi apple cinnamon oatmeal – 1 packet
Yogurt and English Muffin
Choose super low-calorie with this quick meal. Change the English muffin for a waffle in you include:
Whole-grain English muffin
Fruit-flavored Greek yogurt with 100-calorie
Toast and Bacon
Sometimes you just crave for bacon taste. Add it into a low-calorie combination of breakfast.
Almond butter – 1 Tbsp
Reduced-calorie bread -2 slices
Turkey bacon – 2 slices
Simple Smoothie
Smoothies also simple recipes for breakfast when you are in hurry.
Skim milk – 4 oz.
Berries – 1 cup
Low-fat Greek yogurt – 4 oz.
 Ground flaxseed or chia seeds – 2 tablespoons
Cereal with a Side of Melon
Sweet melon benefits a blah breakfast appear more mature.
Raisin Bran – 3/4 cup
Melon cubes – 1 cup
1% milk – 1 cup
Apple & PB Bagel
Thomas' Whole-grain 1-Bagel topped with:
Granny smith 1 small apple
Organic or Natural peanut or nut butter 1 tbsp.
Yummy Yogurt
Almonds (slivered) – 1 tsp
Blueberries – ½ c.
Low-fat granola – ¼ c. (without raisins)
Chobani Low-fat Greek Yogurt – ½ c., (coated)
Breakfast Sandwich
Egg whites – 3 (scrambled)
Spinach – ½ c.
Tomato -1 slice
Alpine Lace Lowered-fat Cheddar Cheese – 1 slice
Wheat English Muffin – 1 split infilled and half with:
Doctored Up Oatmeal
Prepared oatmeal (plain) -1 package, topped with:
Fat-free milk – ½ c.
Fuji apple – Chopped and small
Brown sugar and cinnamon – 1 tsp
Walnuts – 1tsp (chopped)
Berry Good Waffles
Nutri-Grain – Eggo Low-fat Whole-grain Waffles -2
Stonyfield-Farm-Low-fat Plain yogurt – ¼ cup
Strawberries – ½ cup
Maple syrup – 2 tsp
South of the Border Breakfast
Egg whites – 3 (scrambled) topped with:
Black beans, (rinsed and drained) – ¼ cup
Sargento Lowered-fat Mild Cheddar, (shredded) – 1 oz.
Salsa – 2 Tbsp.
Spinach and Parmesan Omelets
Spinach 1-cup
chopped scallion
Egg 2
Grated Parmesan – 2tsp
Toasted oat bread 1 slice
Half cup grapes
Sauté spinach in a non-stick skillet and add chopped scallion. Saute this for one minute.
Beat 2-eggs with a dash tabasco and add in skillet.
Cook it until the egg is cooked for 2-minutes.
Flip and include 2-teaspoons grated parmesan. Cook it for 15-30 seconds.
Serve with one slice of toasted oat bread and half a cup of grapes.
Huevos Rancheros
2 Egg
Non-stick cooking spray
Half cup black beans
1/4 cup salsa
Shredded cheddar 2-tablespoon
Take a medium non-stick skillet and cook two eggs sunny-side-up.
Combine black beans and salsa.
Top salsa and bean mixture and eggs with two tablespoons shredded cheddar.
French Toast Cinnamon-Raisin
Egg 1
Honey 1 teaspoon
Cinnamon half teaspoon
Beat egg with honey and cinnamon.
Coat two slices of whole wheat raisin bread using an egg mixture.
Cook bread for one minute in a non-stick pan.
Serve it with two tablespoon applesauce and ricotta with a pinch of cinnamon.
Chive-and-Dill Baked Egg
Egg 1
Tomato 1
Shredded Swiss cheese
Raspberries
Milk
Chives 1 teaspoon chopped
Dill 1 teaspoon chopped
Preheat the oven to 425-degree. Cut around the size of a 4-inch ramekin out of whole wheat bread toasted.
Apply mist ramekin with non-stick cooking spray and keep bread in the bottom with one slice of tomato.
Beat together one egg, chives, dill, and a splash of milk.
Pour into a ramekin and sprinkle shredded swiss cheese, and tomato.
Bake 10-minutes.
Serve this with one cup of raspberries, lemon juice, and sliced almonds.
Banana and Raspberry Smoothie
Banana 1/2
Frozen raspberries 1/2 cup
Greek yogurt 1/2 cup
Milk 8 ounces
Blend all ingredients and make a smooth blend.
Eat one slice of whole-wheat toast with peanut butter.
Tropical Fruit Parfait
Pink Grapefruit 1/2
Navel Orange 1/2
Kiwi 1/2 (peeled and chopped)
Pineapple 1/4 cup (chunks)
Peel and cut the pink grapefruit and navel orange into segments. Mix kiwi, and pineapple chunks.
Keep half Greek yogurt in a bowl.
Mix yogurt and fruit and include high fiber cereal.
Include a half cup of Greek yogurt with high fiber cereal.
Top it with shredded coconut.
Apple and Chicken Sausage Breakfast Sandwich
Apple and chicken sausage
Shredded cheddar
Muffin
Toast One Whole-Wheat English Muffin
Cook two ounces of chicken and apple sausage according to directions.
A top half muffin with sausage and 2tbsp shredded cheddar. Bake it till cheese melts.
Top with one slice tomato and remaining half muffin and eat with one clementine.
Egg White Frittata
It is a very healthy and delicious breakfast. This breakfast consists of nutritious vegetables, eggs high protein, which keep you full till lunchtime. For easier weekday mornings, make a large batch in your weekend, and portion it out for a further week. Top this with fresh salsa and hot sauce before serving.
2 tablespoons olive oil
1 red pepper(chopped)
1/4 yellow onion, (chopped)
1 green pepper, (chopped)
One teaspoon black pepper
1 teaspoon kosher salt
1/2 cup feta cheese, (crumbled)
8 egg whites (either carton or separated)
2 cups fresh spinach
Preheat your oven at 375°F.
Take a heavy bottom skillet, pour olive oil, and keep low heat.
Sauté pepper and onion with vegetables till they become tender.
Sprinkle pepper and salt.
Now add egg white and cook for 3-minutes.
Topping with spinach and feta.
Keep the skillet in the oven and bake. Take out in 8-10 minutes.
Coconut Chia Pudding
Chia seeds have become healthy for diet because they consist of omega-3s, fiber, calcium, and protein. They are the best addition to a balanced breakfast.
Can of Coconut milk
⅓ cup chia seeds
Vanilla one tablespoon
Honey
Mix coconut and chia seeds with vanilla and honey. Top this concoction with fresh frozen berries.
Baked Egg Cups
These baked egg muffins are super nutritious, high protein, and moderate in the carb. You can make a big batch of muffin tin and store it in a busy schedule. Once you get to work, easily reheat in the microwave for 10-15 seconds.
Large Eggs 6
Salt and Pepper
Sausage
Spinach
Chopped bacon
Onions
Shredded cheese.
Beat eggs and do covering with salt and pepper for flavor. Add sausage, chopped peppers, spinach, chopped bacon, shredded cheese. Stuff each muffin cup ¾ full, and bake it in a preheated – 375-degree F oven for 20-25 minutes or till firm. Store in an airtight box for 1-week, or refrigerate for a later time.
Banana and Overnight Oats
Those pockets of easy oatmeal often consist of sugar and other preservatives, which is why overnight oats have become the favored option for breakfast eaters attending to clean up their acts. This alternative idea equals minus the calorie overload and banana bread.
Half Banana
Half cup skim milk
Vanilla 1 teaspoon
Cinnamon 1 teaspoon
Mix oats and banana with skim milk, vanilla, maple syrup, and cinnamon. Mix the ingredients in a jar, seal it, and refrigerate all night. Serve cold or hot in the morning topped with chopped nuts and sliced bananas.
Avocado Toast with Egg
Avocado toast is complete the range right now for good reason. It is a simple and easy to prepare a meal, which is a healthy dose of fat, which means you will feel complete while eating less.
Bread
Avocado ¼ – ½
pepper and salt
Hot sauce
Egg
Take a favorite bread containing whole grains and toast it.
Mash up the avocado on bread and sprinkle pepper and salt.
Top it off with hot sauce and a sunny-side-up egg.
Green Smoothie
Don't make your breakfast a complicated meal. It can be simple like a smoothie. Choose fruit and veggies and limit sugar consumption and embrace smoothies. The choices are endless when it is about variations. And best of all it is completely portable. Therefore, you can enjoy your smoothie.
Begin with a liquid base, such as coconut milk, almond milk, or coconut water. Include a big handful of greens. Kale, spinach, collard, and greens are good options. Pick a frozen fruit for natural sweetness, such as strawberries, half banana, apple, peaches, pears, or berries. Then, include in some extras: avocado, flax seeds, ginger, cinnamon, flax seeds, collagen powder, or green powder.
Banana and Egg Pancakes
Pancakes are less calorie food but have high butter and fructose corn syrup. This 2-ingredient healthier version is gluten-free and could not be easier to prepare. Top them off with some natural fruit preserves or one tablespoon of almond butter.
Mash one banana in a bowl and whisk eggs. Pour the batter into a lightly greased pan, and cook as you would common in pancakes.
Peanut Butter Energy Bites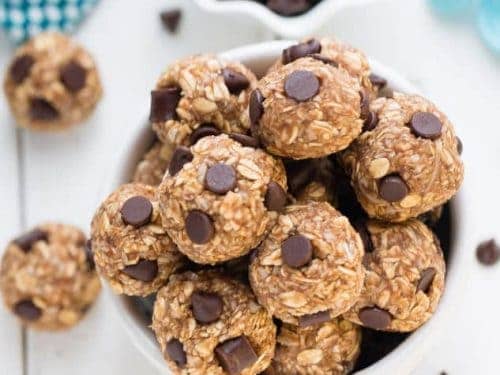 Energy bites are best for breakfast or snacks because they are easy to consume in a busy schedule. The protein content help to keep your tummy full for more time. These snacks are easy to grab to prevent hunger.
Chocolate chips half cup
Peanut butter ⅔ cup
One cup old fashion oat
1/2 cup flax seeds
1 tablespoon of honey
Blend everything in a bowl and refrigerate for 1-hour. Then, roll into balls and store it for one week in the fridge.
Breakfast Quesadilla
Quesadilla can be eaten in breakfast also. You can enjoy this classic recipe in your breakfast also. To make, blend two scrambled eggs. Place whole wheat or less carb tortilla in the pan, and fill half of it with the scrambled eggs. Top with your cheese and cook till the cheese get melts. Serve with salsa for dipping to make it a real fiesta for your taste buds.
Breakfast Quinoa
When you get sick of oatmeal and eggs, change it with another powerhouse grain that tastes good topped with dark chocolate chips. Low calorie and high protein breakfast option will help. It does take somewhat longer to make than some other options, but it can surely be prepped in advance and portioned out from the week.
Quinoa 1 cup
Sea salt 1 teaspoon
2½ cups of water
cinnamon 1 teaspoon
Vanilla 1 teaspoon
Begin by rinsing your quinoa in a strainer.
Begin one cup of raw quinoa with one teaspoon of sea salt and 2½ cups of water. Uncover and boil and lower heat to low and cook for 20 minutes. Add cinnamon and vanilla and boil it. Cook this for 30 minutes at low heat till desired thickness. Serve warm with chocolate chips.